INSTINCT
INSTINCT is a European project in line with the objectives of the newly established DVB-CBMS activities. It is committed to assist DVB in realising the commercial provision of convergent services in mobility with a special focus on the DVB-T, DVB-H and DVB-MHP standards in conjunction with the concept of wireless communications networks (notably GPRS and UMTS) combined with terrestrial DVB broadcast networks. INSTINCT aims to a carrier grade fully specified and open final platform for the delivery of convergent services in collaborating wireless communications and terrestrial broadcast networks.
The main DVB configurations that will be considered and tested in INSTINCT are DVB-T, DVB-H and, of course DVB-MHP.
INSTINCT is planned in three phases over six years. Phase 1 is the technology and development phase. Phase 2 will apply that technology, possibly in the context of medium-scale field trials and Phase 3 will involve real large-scale field trials and involve more operators and local communities.
The first two-year phase of INSTINCT started on 1 January 2004 with 9.6 million euros of funding by the European Commission in the Framework Programme 6. Over the six years of the project it is anticipated that over 50,000,000 euros will be invested in the development of the open platform and the provision of convergent services.
INSTINCT targets the following groups of mobile users: Young urban customers, corporate users, and the general public on the move, walking in a mall or sitting at lunch, in cars and public transport or transiting through any public areas, in which context the INSTINCT concept may allow additional log-in into public WLANs.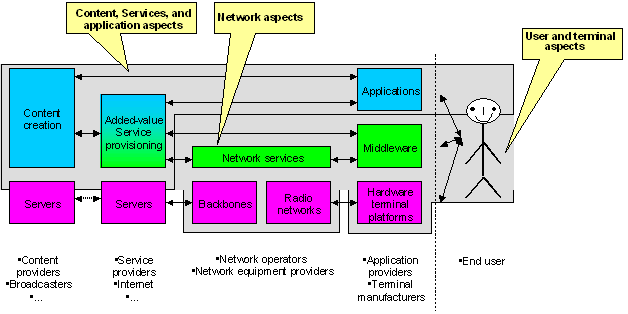 Figure: INSTINCT reference system model
For the end user, the INSTINCT concept will provide cheap and easy to use services on a handheld terminal. Mobile Information Device Profile (MIDP) is a Java API that provides the core application functionality required by mobile applications. INSTINCT will investigate how this API can be used and can interact with MHP to develop application software for converged DVB broadcast and UMTS telecommunication services, more specifically, it will be identified and specified how thin client devices such as smart phones can use this API to receive a subset of a full set of a DVB service.

INSTINCT is a consortium of twenty-four partners, including fourteen industrial partners, six universities and four research institutions. Brunel University is the Coordinator of the project and the contact point is Dr. T. J. Owens, e-mail: Thomas.Owens@brunel.ac.uk.
The INSTINCT consortium includes five Brazilian partners. The Brazilian involvement in INSTINCT enables Brazil to enter a phase of active cooperation and transfer of knowledge in view of a growing awareness of DVB technologies in Brazil and develop general and specific partnerships for the next generation of technologies and standards.
The window of opportunity for services combing terrestrial DVB and cellular is from now to maybe 2010. It is the view of the consortium that the INSTINCT system would have to be developed and potentially operational by, say, end of 2005 in order to enable the envisaged interactive services combining terrestrial DVB and cellular telecom networks.The main four market segments where INSTINCT services could apply short to mid-terme are: