Digital Television for All

What is DTV4All?
DTV4All is a project funded by the European Commission, under the CIP ICT Policy Support Programme, to facilitate the provision of access services on digital television across the European Union.

What are access services?
People who are hard of hearing or deaf need subtitles or deaf signing to be provided with television programmes if they are to fully appreciate its dialogue. People who are partially sighted or blind need audio description provided with a television programme if they are to fully appreciate the context of what they hear. Such services enable their users to access the storyline of a television programme so are known as access services.

The ethos of DTV4All
There are two basic scenarios for the provision of access services. In the first, those with impairments are expected to buy a suitable integrated digital television or a specialised digital television set-top box that can support the access services they want or have it provided by the public health system. In the second, society takes collective responsibility for inclusivity and ensures that set-top-boxes targeted at the general user can support core access services, especially given that certain improvements made for vulnerable groups can be beneficial to all users. DTV4All promotes inclusivity.

Why has DTV4All been funded?
The switch-off of analogue television in Europe by 2012 represents both a challenge and an opportunity for access services. It represents a challenge for two very different reasons. Firstly, many people who have had no problems accessing analogue television will experience some difficulty in accessing digital television. The extent of this issue is such that approximately 15% of Europeans have difficulties in accessing digital television for reasons such as:

Hearing impairments
Dyslexia
Visual impairments
The complexity of setting up a digital receiver or set-top box
Remote controls they find difficult to use
Electronic Programme Guides (especially when there are over one hundred chan¬nels to choose from)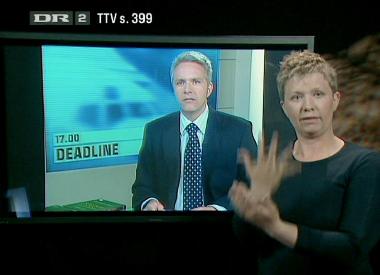 Figure 1: Screenshot of a signing service provided on a virtual channel (DR: Danish Radio)


Secondly, the analogue switch-off will introduce widespread improvements to the quality of existing digital television programmes, collectively known as second generation digital television, such as high definition television (HDTV). As the amount of information that can be sent by a digital television transmitter is limited this poses a challenge to some existing access services. For example, the amount of information in a high definition television programme is significantly higher than the amount of information in the same programme delivered in standard definition. This means that there will be pressure to reduce the amount of transmitted information devoted to access services due to the demand for programmes to be delivered in high definition.
An example of a service likely to come under such pressure is the provision of a virtual channel which allows a signer to be shown more prominently than in conventional portrayals of a signer on a screen illustrated in Figure 1 above. Such a service is valued by its users because the facial expressions of the signer can be clearly seen and these are an important part of the communication. However, showing the signer in this way requires more information to be sent than conventional portrayals.
The opportunities to improve access to digital television for those with physical, mental or age-related impairments that arise due to the analogue switch-off take two forms, opportunities to extend the provision of existing mature access services to European countries that do not currently provide them, and opportunities to provide new kinds of access services known as emerging access services. To ensure the challenge is addressed and the opportunity exploited, DTV4All takes action on two fronts:

Ensuring the widespread adoption of mature access services for first generation digital television
Identifying, assessing and promoting emerging access services for second generation digital television
The most valuable contribution DTV4All can make is to identify the enablers that will allow a core set of access services to be offered in all EU member countries in the near future.

Objectives of DTV4All

Offer and evaluate mature subtitling, audio description, audio subtitling and signing services in a minimum of four territories within the European Union for at least 12 months.
Identify improvements to existing access services and ways of addressing the key technical, organisational and legal obstacles to the sustainable take-up of these services in the timeframe 2008-2010 throughout Europe.
Identify and prioritise key emerging access services, and the devices and platforms needed to support them for the period 2010-2012 in terms of technological feasibility, perceived value to their intended users and business model viability.
Make recommendations regarding mature and emerging access services to bodies representing stakeholders in the access service value chain on the basis of which these bodies can take appropriate action in relevant standardisation bodies.
Consortium
Co-ordinator: Brunel University [UK]
Contact e-mail: T.Itagaki(a)brunel.ac.uk

Partners:
Danmarks Radio/Danish Broadcasting Corporation [DK]
Institut für Rundfunktechnik [DE]
Rundfunk Berlin-Brandenburg [DE]
Red Bee Media [UK]
Televisió de Catalunya [ES]
Universitat Autònoma de Barcelona [ES]
RAI-Radiotelevisione Italiana [IT]

Project Flyer [in PDF, 342 KB] Project Flyer (in Spanish/en español) [in PDF, 81 KB]

Deliverables:
D1.1 : Detailed Work Plan for the full-scale Deployment of Mature Access Services [in PDF, 860 KB]

D2.1 : Technical Plan of Mature Pilot Services [in PDF, 664 KB]
D2.2 : Evaluation Methodology [in PDF, 820 KB]
D2.3 : Interim Report on Pilot Services (1) [in PDF, 1364 KB]
D2.4 : Interim Report on Pilot Services (2) [in PDF, 1002 KB]
D2.5 : Final Report on Pilot Services (1 of 2) [in PDF, 3903 KB]
D2.5 : Final Report on Pilot Services (2 of 2) [in PDF, 3568 KB]
D2.6 : Recommendations on the Effectiveness and Efficiency of Existing Services Improvements [in PDF, 374 KB]

D3.1 : A Shortlist of Emerging Access Services [in PDF, 580 KB]
D3.2 : Implementation and Test Plan [in PDF, 200 KB]
D3.3 : First Phase Emerging Access Service Demonstrator [in PDF, 1475 KB]
D3.4 : Interim Report on Expert User Tests [in PDF, 1258 KB]
D3.5 : 2nd Phase Emerging Access Service Demonstrators [in PDF: 1919 KB]
D3.6 : Final Report on Expert User Tests of Emerging Access Services [in PDF: 1629 KB]
D3.7 : Recommendations for Future Access Services, Devices and Platforms [in PDF, 487 KB]

D4.1 : Cooperation with Standardisation bodies [in PDF, 670 KB]
D4.2 : Preliminary Dissemination Plan [in PDF, 603 KB]
D4.3 : IBC/IFA Presentation (2009) [in PDF, 1583 KB]
D4.4 : Final dissemination plan [in PDF, 440 KB]
D4.5 : IBC/IFA Presentation (2010) [in PDF, 2625 KB]
D4.6 : Descriptions of the Mature Access Services and Guidelines for their Implementation throughout Europe [in PDF, 2369 KB]
D4.7 : Recommendations on Emerging Access Services - joint document with D3.7
D4.8 : Final Workshop on Access Services at the EBU [in PDF, 1633 KB]
>> ITU-EBU Joint Workshop on Accessibility to Broadcasting and IPTV ACCESS for ALL
>>

short clip by EBU on YouTube



D5.1 : Project Web Page Set Up
D5.2 : DTV4All Workshop [in PDF, 214 KB]
>> Workshop on barrier-free digital television in the European Parliament

Project Final Report [in PDF, 1509 KB]


Dissemination Events:
IBC, EBU Village (Hall 10, D 21) 10 - 14 Sepmber 2010, Amsterdam, Netherlands
8th International Conference & Exhibition on Language Transfer in AudioVisual Media, 06 - 08 October 2010, Berlin, Germany
Workshop on barrier-free digital television in the European Parliament, 28 October 2010, Brussels, Belgium
ITU-EBU Joint Workshop on Accessibility to Broadcasting and IPTV ACCESS for ALL, 23 - 24 November 2010, Geneva, Switzerland
DTV4All Project Final Workshop, 25 May 2011, Brussels, Belgium


Links:
Clips demonstrating Audio Description (RNIB)
BBC "See Hear" Series 30 Episode 30: Subtitle Issues (on YouTube)


BBC Switchover Help Scheme (run by the BBC on behalf of the UK government)


e-Accessibility Policy Toolkit for Persons with Disabilities [ITU/G3ict] - television
ITU-T Focus Group on Audiovisual Media Accessibility
UN Convention on the Rights of Persons with Disabilities
Department of Health (UK): Research and development work relating to assistive technology 2010-11 (see Pages 33 - 35)
"Innovation for Digital Inclusion" Conference, 5-7 October 2011, Gdańsk, Poland
Online Research Center for Accesibility and Audiovisual Translation (ORCAAT)